Malibu REALTORS® Charitable Fund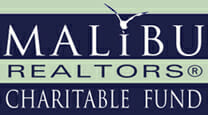 The mission of the Malibu REALTORS® Charitable Fund is to respond to the most serious individual and family needs of the greater Malibu area and our member community. The Fund's primary focus will be on the human needs unmet by other agencies, especially those needs pertaining to shelter and advocacy, as well as personal, financial and emotional issues.
The Topanga Coalition for Emergency Preparedness (T-CEP) is a nonprofit, volunteer organization whose purpose is to help the Topanga Community prepare for and cope with disasters such as wildfires, floods, & earthquakes.

Twitter
Follow us on Twitter:
http://twitter.com/MRFoundation
During fire, flood, earthquake or other catastrophe, we'll keep you posted on important developments, evactuation updates, and more.
We welcome your donations
Please mail your check to:
Malibu REALTORS® Charitable Fund
23805 Stuart Ranch Road., Suite 140
Malibu, California 90265
Donations to the Malibu REALTORS Charitable Fund are not deductible as a charitable expense, but may be considered a business expense. Donors are advised to check with their tax consultant.
Applications are held in confidence only seen by the Advisory Group and Association Executive and two Directors who must sign checks.
In rare cases the Advisory Panel may request additional or backup information.
Retail Emergency Supplies
Chair
Compass California, Inc.
23676 Malibu Road
Malibu, CA 90265
Office 310.230.5478
Mobile 310.924.5352
Email
For nearly 30 years, Malibu is the place that Brenda Hayward and her family have called home. In that time they have bought, built, leased, sold and remodeled homes from Serra Retreat to Corral Canyon, Matador Beach to Decker Canyon. A decade ago Brenda's passion for Real Estate became her vocation and her experience within the community as a professional, a mother, a coach and a volunteer has allowed her to give clients a comprehensive understanding of this seaside retreat and an uncommon ability to match those clients with the right property and to facilitate their integration into the community. Brenda's extensive marketing and negotiating skills combined with her devotion to customer service have earned her awards as a top producer. However, the award of which she is most proud is the recognition she has received from The Community Foundation for her years of fund raising efforts on behalf of families in need. Prior to settling in Malibu, Brenda worked extensively in the fashion and entertainment industry in Europe, Asia and the U.S. Those years of international experience and exposure to remarkable architecture and a variety of cultures give her a unique perspective, understanding and commitment that are present in every aspect of her life and work.
Prudential Malibu Realty
540 S. Topanga Cyn. Blvd.
Topanga, CA 90290
Office 310.455.3200 x 27
Mobile 310.428.5085
Email
Bill Bowling has been working as a successful Real Estate agent in Malibu and Topanga Canyon. Bill is an accomplished musician who donates time to various musical projects that his two daughters are involved in, in addition to being the 2009 President of the Malibu Association of REALTORS®. Active in environmental affairs, Bowling founded ACME (Aerospace Cancer Museum of Education) a non-profit museum dedicated to raising awareness of the Santa Susana Field Laboratory and other Nuclear/Aerospace Research Facilities that are endangering the health of Angeleno's.
Pritchett Rapf
23732 Malibu Road
Malibu CA 90265
Direct 310.456.5570
Mobile 310.801.4633
Email
Jeff Chertow has been successfully working as REALTOR® in the Malibu community for over 20 years. Born and raised in Southern California, Jeff knows the true meaning of California living. When not working with his clients Jeff dedicates his time volunteering with various organizations such as Free Arts for Abused Children. He has also served on the Malibu Board of REALTORS® for multiple years and has been a council member overseeing mediations pertaining to real estate conflicts.
Thank you for all who came out to Taverna Tony's in Malibu to help support the Malibu REALTORS® Charitable Fund. We look forward to seeing you at our next fundraiser.